173 West 6th Avenue, Vancouver, B.C.
"Self-realization means to know truth through yourself, and not through others. By seeking God first, through Self-realization, all things – strength, power, prosperity, wisdom, health, and immortality – will be added unto you." … Paramahansa Yogananda
Welcome to the Vancouver Meditation Group of Self-Realization Fellowship (SRF). Our group is composed of members and friends of SRF, a worldwide religious organization.
SRF seeks to foster a spirit of greater understanding and goodwill among the diverse peoples and religions of our global family, and to help those of all cultures and nationalities to realize and express more fully in their lives — the beauty, nobility, and divinity of the human spirit.
Paramahansa Yogananda founded SRF in 1920, to make available the universal teachings of Kriya Yoga, a sacred spiritual science originating millenniums ago in India. These non-sectarian teachings embody a complete philosophy and way of life for achieving all-round success and well-being; as well as methods of meditation, for achieving life's ultimate goal — union of the soul with Spirit.
The teachings of Yogananda are available through the printed and online, SRF lessons. Free literature and information about the SRF lessons, is also available in our meditation chapel.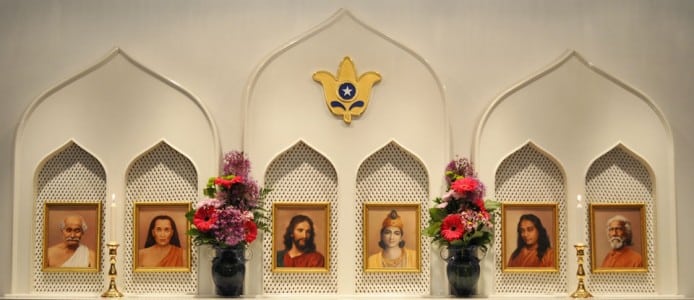 Human conduct is ever unreliable until man is anchored in the Divine. Everything in future will improve, if you are making a spiritual effort now.
May the Christmas spirit you felt, never end. May it be with you every night as you meditate. Then, in the silence of your own mind, as you drive away all restless thoughts, Christ Consciousness will come.
Seek to do brave and lovely things, which are left undone by the majority of people. Give gifts of love and peace to those whom others pass by.
The after-effects of Kriya bring with them the utmost peace and bliss. The joy that comes with Kriya is greater than the joys of all pleasurable physical sensations put together.
Mankind is engaged in an eternal quest for that "something else" he hopes will bring him happiness – complete and unending. For those individual souls who have sought and found God, the search is over: He is that Something Else.
When you realize that life is a joyous battle of duty and at the same time a passing dream, and when you become filled with the joy of making others happy by giving them kindness and peace, in God's eyes, your life is a success.